Perspectives
The game artist has strong 3D and art skills and is capable of designing and producing 2D and 3D work for a variety of uses including 3D games and animated films.
– Creative work: Research, conceptualize and take creative decisions. Work with color, shape and volume to design virtual worlds, their content and their inhabitants.
– Technical tasks: Work with modern, specialized software and create the 2D & 3D assets, levels and characters required to bring digital games to life.
– Work in teams: The production of games relies on the teamwork of specialized creatives.
Visual design techniques
Visual Design 2D
Vocational Communication / Action Telling
Asset creation
Modeling techniques / Texturing and Materials / Modeling for Games
Animation Techniques
Art Direction / Analytical and Concept Drawing / Character Design
Game Design and Level Creation
User Interface (UI) and user experience (UX)
Game Design and Level Creation  / Open World Level Creation
Artistic Game Prototypes
Game Culture and History
Game Engines and Scripting / Optimization techniques
Projects
Individual and Group Projects
Events
Project Management
Agile project management
Monetization
Publishing
Entrepreneurship
Internship
6-week internship in a company
Evaluation methods
Written test
Multiple choice tests
Interview
Presentation
Practical labs
Portfolio
Practical test
Overview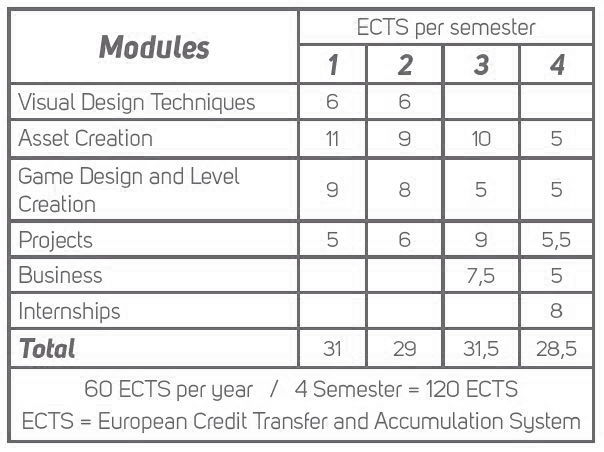 Jobs
The course aims to empower the students to fulfill job roles such as Game Artist, Character designer, 3D Artist, Level Designer, Concept Artist, Technical Artist or Interactive Media Designer.
Dependent of the individual skill level of the person, further studies or independent work in the sector are a possibility.
Download Brochures